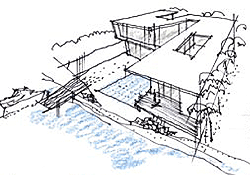 We offer comprehensive design services at all stages, from initial concepts through to construction details and 3D photorealistic visualizations for client presentations.
Sectors:
Residential
Commercial
Public
We provide sound technical advice on current planning & building control issues and complete tender & construction design packages working closely with the client, liaising with consultants, local authorities and building contractors.
Sustainability
Successful sustainable design and construction reflects the principles of sustainable development i.e. environmental protection, economic development, and social development, in the orientation, design, building, maintenance and occupation of all new buildings.
We are committed to developing design solutions to improve the built environment, ensuring our projects are designed and constructed to high environmental standards and thereby; minimise energy requirements, reduce water consumption, use materials which are of low environmental impact, conserve / enhance the natural environment and safeguard human health and wellbeing. To achieve this, we are pleased to offer the following sustainability consultancy services:
BREEAM (environmental assessment standard for non domestic buildings)
Code for Sustainable Homes (environmental assessment standard for domestic properties)
Energy modelling (Sbem and SAP calculations)
EPCs – Commercial and Domestic
Renewable Energy Studies & Advice
Flood consequence assessments
Sustainable drainage system advice
Tensile Structure Design
In addition we are specialists in tensile structure design, producing complete design packages for the fabrication of membranes, steelwork, glazing and all structural interfaces in conjunction with external consultants.